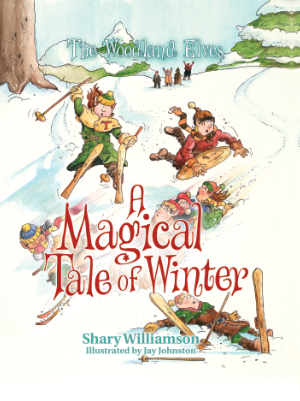 We welcome you to the world of the woodland elves (and now fairies) who dwell in our hearts and our imaginations. In this 4th book of the series, you will once again discover that good will prevail and our stories will always end "happily ever after."
It has been said in so many different ways that the love in your heart isn't put there to stay. Love isn't love til it's given away. The family of the elves is happy to share this Christmas book with you in the spirit of the season. LOVE!
This holiday book is written in a way that all cultures will understand. The stories address holiday traditions and issues that are universal to humans everywhere. Though traditions and celebrations may be different around the world, all languages recognize the joys of holiday magic, family, miracles, and love. We hope children will be memorized by the wonders and joys of the season that are highlighted in this book. We also hope this book will transport adults to their own childhood (or a childhood of their dreams), reminding them of the many joys of the holiday season. May joy be so contagious that people everywhere will want to go forth into the world and interact with all other living beings.
We have tried to weave the voices of humans and elves together in unity. Though it is about Christmas, it is a universal book for people of all faiths. We all live together in this one world and in order to live happily together, we must respect all traditions. Our little elves are the ambassadors who share the joys of holiday seasons. Activities that all families can relate to include: food and fun in the kitchen, music, decorating, laughter and joy, seasonal activities, family and faith.
This is the fourth book of "nearly true" stories is about one family who came to know and love an entire community of elves living in The One & Only Forest. The books center around a relationship between a grandmother and her grandchildren and a secret journey with elves. The circle of friends once again enlarges in this book as the elves meet tiny winged fairies. Miracles and magic continue in this small world where there are no limits and anything is possible. If you dare to hear the voices from the forest, it all becomes clear.
We are proud to introduce QR codes to you in this book, so that you may both read and hear the author reading the story to you in your own living room. Merry Christmas and Happy Holidays from the family of The Woodland Elves.